Can I Tow With A Jeep Wrangler?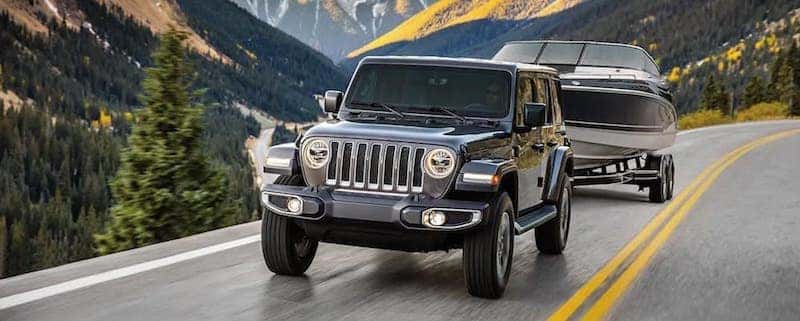 If you like to kick up a bit of mud and dust when it's time for an adventure, then you probably already know that the 2019 Wrangler at our Nashua area Jeep dealership can take you just about anywhere. When it comes to camping, off-roading, and just about anything outdoors, this SUV is the leader of the pack.
But what about when you want to bring your favorite toys along for the fun? If you're wondering if the 2019 Jeep Wrangler at our Nashua area showroom can tow, the answer is yes!
What Can You Hitch Up to the 2019 Jeep Wrangler?
With a towing capacity of up to 2,000 lbs on two-door models and up to 3,500 lbs on four-door models, the 2019 Wrangler is as ready for your gear as it is for a muddy trail. That's a good thing, too, since outdoor adventures are always more fun with your favorite gear.
A 2,000-lbs capacity gears you up for smaller loads like a light utility trailer, dirt bike, aluminum boats, and more. Perfect for a weekend excursion.
Making the jump to a 3,500-lbs capacity equips you for bigger loads, and your options expand a bit. Think ATVs, jet skis, a smaller camper, or a smaller speed boat. You've got plenty of options when you're driving the 2019 Wrangler!
Ready to gear up and get set for your next expedition? Don't hesitate to contact the team at Contemporary Automotive by calling (844) 500-6722 today!