Can the Jeep Wrangler Hold My Golf Clubs?
When you picture the Jeep Wrangler, chances are that you imagine it whipping up mud from the trail or crawling over boulders. With that image in mind, you might have trouble picturing the Wrangler parked near a perfectly manicured golf course. The team at our Manchester area Jeep dealership can confirm, though, that this SUV is as suited to your leisurely day on the green as it is to a rough day on the trail.
Depending on the size of your golf bag, it's very possible that you might be able to simply lay it in the cargo area without even folding the seats down. The only snag we've ever encountered with smaller bags is the length of your driver. If it's too long, you can simply remove it and lay it separately for your trip.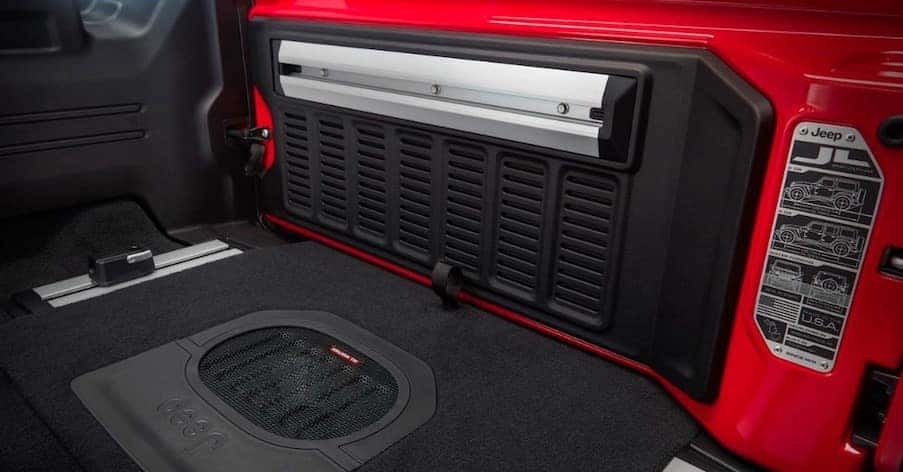 If you carry a larger golf bag or you're traveling to the golf course with a friend, don't fret. The two-door Wrangler still offers plenty of space for two passengers and two golf bags with the rear seat folded flat. When you get out of your Wrangler and start your game, just remember that your golf cart doesn't have Jeep's legendary 4×4 systems; it won't fare so well if you try to drive through a sand trap!
Loading Up the 2018 Jeep Wrangler to Explore Near Manchester
Of course, the 2018 Jeep Wrangler brings Manchester area drivers space for more than just their clubs. No matter what sort of activities you're getting into, you'll be glad to have the 2018 Wrangler's cargo space. With a built in hidden storage area and available Trail Rail™ system for tying down cargo, flexibility is a given.
Whether your weekend plans include traversing the trail or a day at the driving range, the 2018 Wrangler is the perfect way to get where you're going in style. For more info, or to schedule a test drive with the experts at Contemporary Automotive, be sure to contact us by calling (844) 500-6722 today.