How Do I Care For My Tires?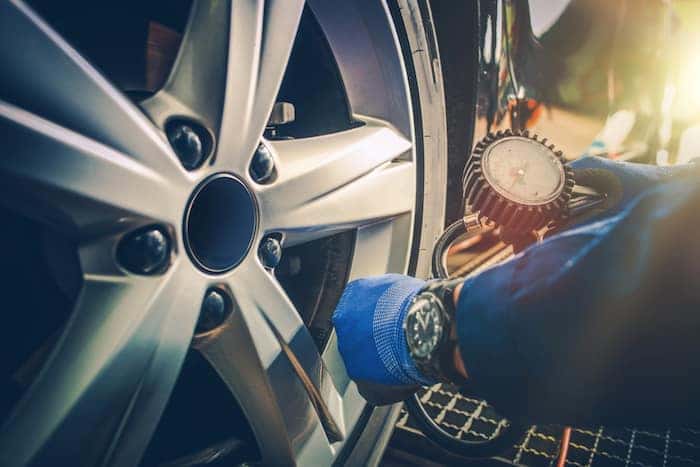 Depending on how often and how far you're driving, as well as weather conditions, it is important to maintain a schedule for checking and caring for your tires. Tires are integral to multiple aspects of driving, and performing inspections for tire wear, tread, inflation, and general maintenance can be crucial to keeping you safe on the road. Take a look at some tips for checking your tires from our Milford area Chrysler Dodge Jeep RAM FIAT dealer.
Inspect Your Treads and Tire Inflation
In order to ensure your tires are in good condition, they should have the appropriate tread depth and inflation level. It is recommended that you take a look at your tires monthly to stay ahead of any potential issues or replacement needs.
To inspect your treads, you can use a tread gauge purchased at an automotive parts store, or take the old-fashioned route with the penny or quarter methods. When using a quarter, place the coin on your tread groove with Washington's head facing down. If you can see the top of his head, that means your tires have less than 4/32" of tread, and you will need to look into replacing them soon. With the penny, place Lincoln's head down as well. If you can see above the top of his head, there is less than 2/32" of tread, which is below the amount required by law, and you will need to replace your tires immediately.
To check your tire inflation, you'll want to use a pressure gauge that measures in pounds per square inch (psi). You'll be able to locate the appropriate pressure for your tires in the owner's manual of your vehicle or listed in the tire information on the driver-side door. You will want to make sure you are checking the pressure when the tires are cold, as warm tires can lead to an overestimation of inflation.
Keep Your Tires in Tiptop Shape
There are several tactics you can try in order to extend the lifespan of your tires. You may need to take your car into a repair shop to have certain procedures performed, but doing so can keep you safer and feeling more confident on Milford area roads. Some of these processes include:
Tire rotation, or switching your vehicle's tires from one position to another, is an essential tactic. The appropriate pattern and time to rotate will be dependent on your specific vehicle, but it is often performed between 5,000 and 7,000 miles.
Tire balancing can also be helpful, which involves limiting the vibration of the tire and wheels while turning thanks to the use of small weights.
Wheel alignment is also key to maximizing fuel efficiency and keeping your tire from drifting to one side or the other. The alignment is again specific to the type of vehicle you drive, so you will want to perform a check or have it checked if you feel a pull to one side or when new tires are installed.
Visit Our Milford Area Service Center and Have Your Tires Checked
If it's time for you to have your tires inspected, rotated, or replaced, head to our Milford area service center and let one of our trained professionals assist you. Please don't hesitate to contact us with any questions or concerns in the meantime!