Contemporary Automotive Cares About The Environment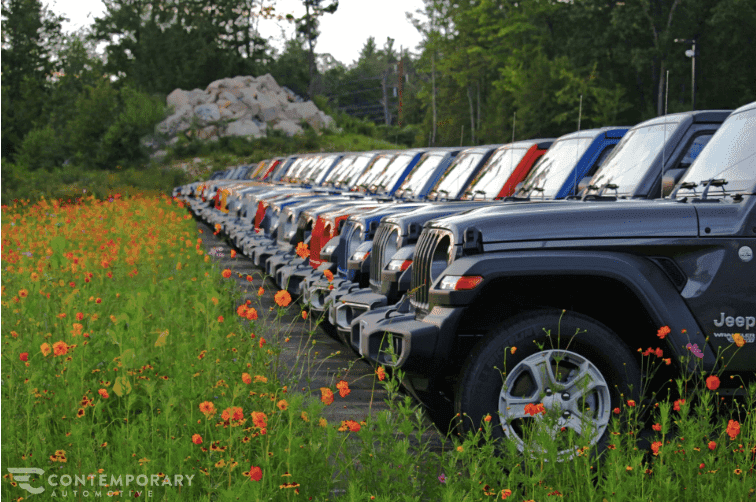 An NHADA member, Contemporary Automotive is proud to practice environmental stewardship in several different ways. Our dealership's roof features a 450 panel photovoltaic solar array. Since it was commissioned in 2017, the solar array has saved over 389,670 lbs. of CO2 emissions equivalent to the amount of CO2 sequestered by 9,814 trees – and that's just the beginning.
Contemporary Automotive Environmental Stewardship
Contemporary Automotive: Environmental Warriors
More recently, Contemporary Automotive has integrated a field of wildflowers into their parking area. This pollinator-filled wildflower bed will continue to grow throughout the years, bringing plenty of color to the dealership.
The solar array and wildflower bed aren't the only things that Community Automotive does to commit to going green. Here's just a few more examples:
1. Used Motor Oil is stored on site and heats the entire building
4,330 gallons storage capacity
Double Wall storage tanks, High-level alarms, overflow shut off, and interstitial monitors all designed to prevent spills
Floor drains removed from repair shop floors to prevent ground water contamination
Repair shop floor is pitched to the center forming a basin w/ effective capacity of approximately 2,000 gallons
Heat is distributed to over 70% of the building via in-slab radiant heat generated by the burning of used motor oil
2. Reduced water consumption both inside and outside the building
Low flow plumbing fixtures installed throughout the building
Native, drought tolerant plants used in exterior planning areas
No irrigation system installed
3. Stormwater runoff managed using Bioretention Rain Gardens allowing stormwater to be absorbed in the ground.
4. Energy Efficient Building Envelope
LED Lighting installed inside and outside the building. All interior lights are LED, all exterior lights are LED
R38 Insulation used for the roof, this exceeds the energy code required R20 insulation
White rubber roof installed to deflect heat from the sun
2" under-slab hard foam insulation installed in over 70% of the building
5 Large destratification fans installed in the showroom and repair shop
Reflective exterior glass reduces the amount of heat absorbed through the glass
3" insulated metal panels form the building exterior
5. Solar Powered EV Charging Stations – 2 Solar Powered EV Level 2 Charging Stations installed. 1 EV station is available for public access 24/7, there is no cost to the consumer for the use of the EV charging station.
Contemporary Automotive cares about the environment! To learn more about our initiatives and what we do to take care of the planet, don't hesitate to contact us today.