4 Things to Consider When Buying a Truck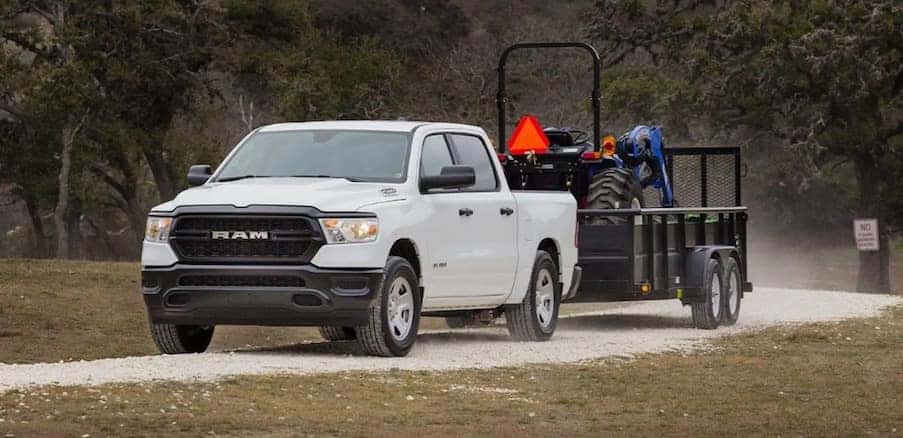 If you're looking to buy a pickup truck, then Contemporary Automotive is here to help you get behind the wheel of the perfect fit. But which truck is the perfect fit for you? There are a lot of factors to consider–especially if you have some tough jobs in mind–so let's get down to brass tacks.
What is Payload on a Truck?
The term "payload" refers to the weight of the cargo you're carrying in the bed of your truck, and capacities can vary widely depending on your truck and configuration. Don't let the term "light-duty" fool you, though; the 2019 RAM 1500 is the automaker's light-duty offering at our Nashua area showroom, and it can haul up to 1,900 lbs in the bed. That's just one reason it was named the Motor Trend 2019 Truck of the Year. If that near-ton payload capacity isn't as high as you had in mind, RAM's heavy-duty trucks can haul up to 7,390 lbs, depending on configuration.
What is The Towing Capacity on a Truck?
When it comes to big capacities, your truck's hitch is where you'll do the most heavy lifting. The RAM 1500 can tow up to 10,640 lbs to tackle some tough tasks. The heavy-duty RAM 3500, though, nearly triples that capacity at 31,210 lbs with the right diesel configuration. Our Nashua area dealer can help you get the most out of your truck while towing, and we can also help you find the right configuration for your plans.
How Much Passenger Space Does The Truck Have?
Regular Cab configurations seat two or three passengers, while Crew and Quad Cab® configurations add a second row with varied amounts of legroom to seat up to six passengers. If you're traveling with the whole crew to the job site, a spacious Crew Cab is the way to go. If your back seat is for family and you plan on trading for a different truck before the kids get too big, though, a Quad Cab® might be just the ticket. Flying solo or with just a passenger or two? A Regular Cab might be a great fit while affording larger bed options. Sliding behind the wheel is the best way to decide for sure, though.
What is The Gross Combined Weight Rating?
Your truck's GCWR, or Gross Combined Weight Rating, refers to the total weight of your truck, passengers, cargo, trailer, and trailer load. You won't be able to max out your payload and towing capacities simultaneously, and this figure tells you just how much you can move at once so that you can strike the right balance.
At the end of the day, balance is really the name of the game. We invite you to come in for a test drive or two, and don't hesitate to let us know what matters most to you in a truck. With a bit of insight, our experts can point you toward a truck that's sure to be your most valuable companion on tough jobs.
For more information on the RAM lineup, or to schedule a test drive here at Contemporary Automotive, be sure to contact us today!