2022 Chrysler Pacifica Hybrid Trim Comparison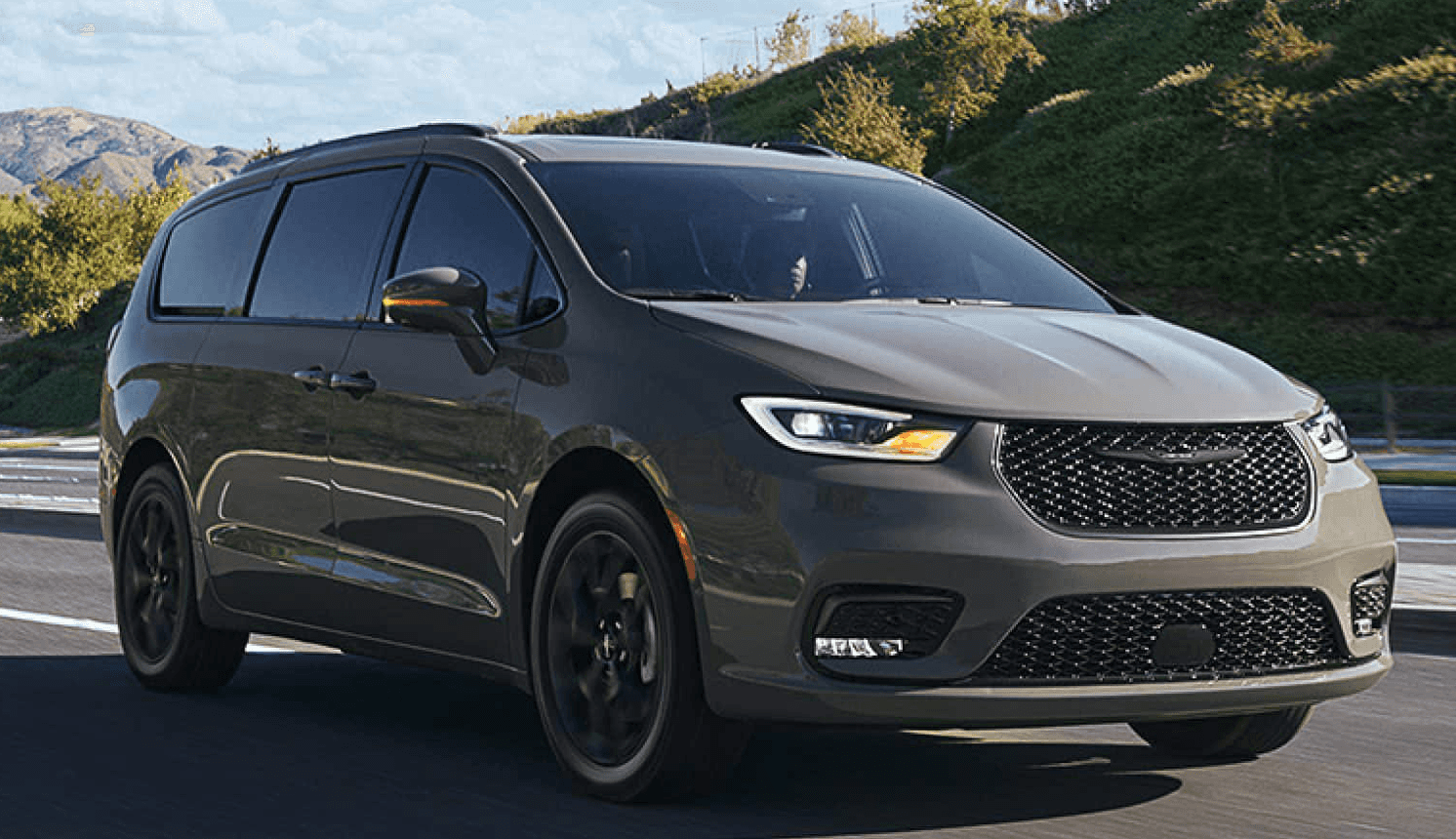 2022 Chrysler Pacifica Hybrid Trim Levels
Highlights
Touring L

Standard Safety Features Including the Pedestrian Automatic Emergency Braking System, Forward Collision Warning with Active Braking, Adaptive Cruise Control, LaneSense Lane Departure Warning with Lane Keep Assist and Blind Spot Monitoring System
McKinley Leather Perforated Seats and a Leather-Wrapped Steering Wheel
Heated Front Seats and a Heated Steering Wheel
Super Console
Power Driver Seat with Memory Feature
Battery has a 10-year/150,000-Mile Limited Warranty or an 8-year/100,000-Mile Limited Warranty, Depending on the state

Limited

Standard Safety Features Including the Pedestrian Automatic Emergency Braking System, Forward Collision Warning with Active Braking, Adaptive Cruise Control, LaneSense Lane Departure Warning with Lane Keep Assist and Blind Spot Monitoring System
Premium Nappa Leather-Trimmed Seats with Heated and Ventilated Front Seats
Hands-Free power Sliding Side Doors and Hands-Free Power Liftgate
Uconnect 5 Navigation System
Integrated Premium Console with Wireless Phone Charger
Battery has a 10-year/150,000-Mile Limited Warranty or an 8-year/100,000 Mile Limited Warranty, Depending on the state

Pinnacle

Standard Safety Features Including the Pedestrian Automatic Emergency Braking System, Forward Collision Warning with Active Braking, Adaptive Cruise Control, LaneSense Lane Departure Warning with Lane Keep Assist and Blind Spot Monitoring System
Quilted Caramel Nappa Leather-Trimmed Seats with Second-Row Pillows
Integrated Ultra Center Console with Wireless Phone Charger
FamCAM Interior Cabin Camera
Battery has a 10-year/150,000-Mile Limited Warranty or an 8-year/100,000 Mile Limited Warranty, Depending on the state
2022 Chrysler Pacifica Hybrid Inventory
What Trim Levels Are Available on the 2022 Pacifica Hybrid?
Are you looking for a Hybrid with not only the latest and greatest technology but also one with key safety features and luxurious accents? If so, please consider the new 2022 Chrysler Pacifica Hybrid which is available at Contemporary Automotive in Milford. This Hybrid has three available trims including the Touring L, Limited and the Pinnacle.
Which 2022 Chrysler Pacifica Hybrid Trim Level Is Best For Me?
The 2022 Chrysler Pacifica Hybrid Touring L presents luxury with its heated front seats, heated steering wheel, leather perforated seats, and a power driver seat with a memory feature to enter your vehicle and immediately adjust the surrounding elements to your particular preference.
Premium Nappa leather-trimmed seats with heated and ventilated front seats, hands-free power sliding side doors, hands-free power liftgate, and an integrated premium console with a wireless phone charger highlights the Limited model. Also immerse yourself in the Uconnect navigation system to take your road trips to the next level.
The Pinnacle comes with top of the line quilted caramel nappa leather-trimmed seats with second-row pillows, an integrated ultra center console with a wireless phone charger and a FamCAM interior cabin camera.
Purchase A 2022 Chrysler Pacifica Hybrid In Nashua, NH
The 2022 Chrysler Pacifica Hybrid gives the driver a sense of style and convenience to tackle the open road. If you are interested in this Hybrid, please contact us at Contemporary Automotive in Milford. We're located in Nashua near Merrimack, Bedford, Manchester, and beyond.