2020 Jeep Gladiator vs. 2020 Ford Ranger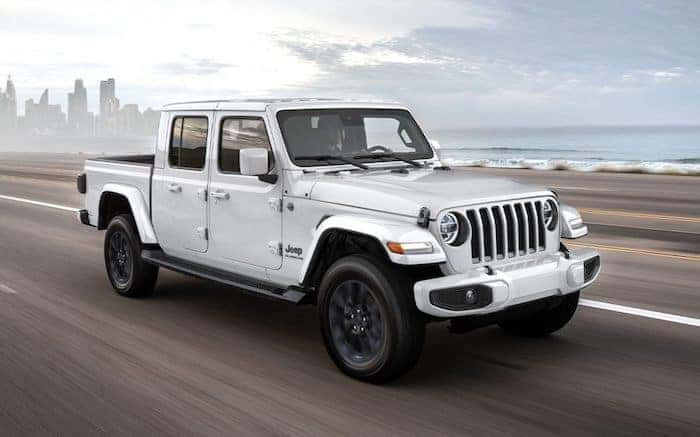 Midsize pickup enthusiasts may be torn between the 2020 Jeep Gladiator and the 2020 Ford Ranger. Both of these trucks are relatively new on the midsize scene, and each goes about their business in completely different ways. Jeep devotees near Merrimack, and nearly every other auto shopper, will fall in love with the 2020 Jeep Gladiator the moment they slide behind the wheel. In the battle of 2020 Jeep Gladiator vs. 2020 Ford Ranger, it's not hard to see why the 2020 Gladiator checks all the boxes – and then some.
2020 Jeep Gladiator vs. 2020 Ford Ranger: Performance
The 2020 Jeep Gladiator is powered by a 3.6-liter V-6 that makes 285 horsepower teamed to an 8-speed automatic transmission or a 6-speed manual. Four-wheel drive comes standard on all pickups, and you'll be able to tackle any hillside thanks to a part-time system. The 2020 Gladiator can be equipped with extreme off-road hardware such as locking differentials, chunky tires, and disconnecting sway bars. The 2020 Ford Ranger's 270 horsepower and available four-wheel drive don't quite match up to what the Gladiator has to offer.
2020 Jeep Gladiator vs. 2020 Ford Ranger: Exterior & Interior
Thanks to its boxy body and Wrangler-esque forward cab, the 2020 Gladiator is unmistakable as anything but a Jeep. The bed rides on a frame that is 19 inches longer than the Wrangler, allowing for its classic look. Oh, and did we mention the doors come off? If you're looking for flair, the 2020 Jeep Gladiator beats the 2020 Ford Ranger's bubbly exterior yet again.
Inside the four-door 2020 Jeep Gladiator, passengers will find plenty of room to kick back and relax. The 2020 Gladiator offers 38.3 inches of rear legroom while the 2020 Ford Ranger offers a measly 30.4 inches. When you're looking to haul more than just a few items in the truck bed, the 2020 Jeep Gladiator has you covered.
Test Drive the 2020 jeep Gladiator near Merrimack
When it comes to performance, exterior, and interior features, it's clear to see that the 2020 Jeep Gladiator has the 2020 Ford Ranger beat. If you're interested in getting behind the wheel of this iconic pickup or would like to schedule a test drive, don't hesitate to contact us at our Chrysler Dodge Jeep RAM dealership near Merrimack today.