2019 RAM 2500 vs. 2019 Ford F250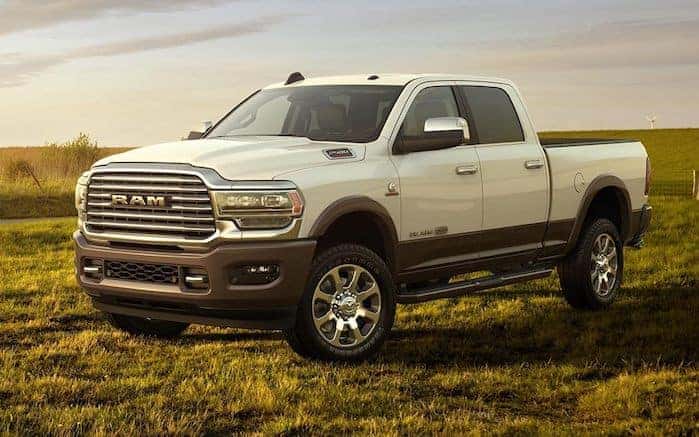 There's no denying the 2019 RAM 2500 and 2019 Ford F250 are both formidable trucks on their own merits, but when each brand says its heavy-duty model boasts the best package of the lot, it can be difficult for drivers to determine which one is truly superior.
At our RAM dealer, we want Nashua drivers to be confident in their next heavy-duty truck purchase, so we're putting an end to any doubts by placing the two options side by side in arguably the most important categories – performance and interior features.
2019 RAM 2500 vs. 2019 Ford F250: Performance
Although their base engines are nearly the same size, the RAM 2500's 6.4-liter V8 engine puts out a Best-in-Class 410 horsepower, which is significantly better than the Ford F250's 385 horsepower 6.2-liter V8. Working our way up to the 6.7-liter turbo diesel engine, the RAM 2500 delivers a knockout 370 horsepower and 850 lb-ft of torque, enough tow 19,780 pounds. With a maximum towing capacity of 15,000 pounds, the Ford F250 doesn't really come close to the capabilities of the RAM 2500.
2019 RAM 2500 vs. 2019 Ford F250: Features
When it comes to comfort and entertainment, both the RAM 2500 and Ford F250 added technology like larger touchscreens and cameras as well as an array of new safety features like adaptive cruise control with collision warning and adaptive forward lighting. Aside from technology, it's clear to see the RAM 2500 sports a more modern interior with options like the Mega Cab model, which includes class-exclusive reclining rear seats and best-in-class interior storage. The RAM 2500 interior also surpasses the Ford F250 in its larger touchscreen.
Considering the two models have similar starting prices, it's hard to ignore the 2019 RAM 2500 offers far more bang for the buck. For even more value on a new Ram 2500, Nashua drivers can cash in on our RAM offers and incentives going on now.
Have any questions about the 2019 Ram 2500? Contact us at Contemporary Automotive.