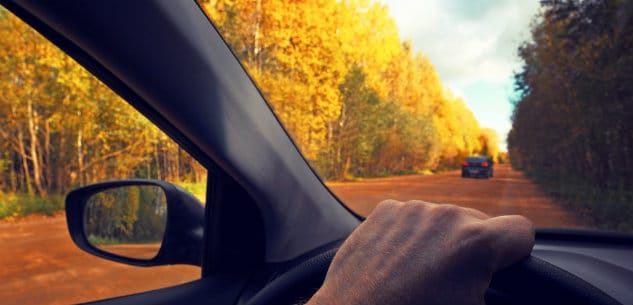 Pumpkins, Halloween, leaves and hay rides are synonymous with fall, but so are hazardous road conditions. When the leaves fall and become wet, the roads get very slippery. The temperature changes don't help your car's tires either, so it's important you pay attention. Our Nashua area Jeep dealer wants to give you a few fall driving tips to make sure your fall is a safe one.
Don't Brake on the Leaves
Although the leaves are beautiful, they can make the road a dangerous place. At this time of year, leaves begin to fall and the weather begins to change. Once the leaves fall on the road and the weather gets wet and cold, the leaves can be as slippery as ice. Pay attention to the edge of the road as leaves may obscure lane lines, and be sure stay focused and brake safely.
Avoid Sun Glare
Around the time of the autumnal equinox, the first 15 and 45 minutes after sunrise and before sunset are very dangerous times to drive due to the sun glare. Since the sun perfectly aligns with east/west roadways at the time, the light could be impair your vision. Make sure to wear sunglasses, keep your windshield clean, and stay away from east/west roads at that time.
Be Careful
Some cities see increased rainfall during the fall, which makes driving a little more dangerous. When it does rain and the roads are wet, maintain a safe distance from the car in front of you and brake earlier than usual. Also, the colder temperatures leaves morning frost and icy patches on bridges, overpasses and shaded spots, so be careful and slow down.

Watch Out For Deer
Autumn marks the beginning of deer breeding season, which means they will be more active near the road. Nashua area Jeep drivers need to keep an eye out for deer on the side of the road, and drive slowly through wooded areas. Deer are most active during sunrise and sundown, so be extra alert.
Make Sure Your Vehicle Is Up to the Task
Last but not least, make sure your car is in good shape during this time of year. Being that tires lose 1 to 2 pounds of pressure for every 10-degree temperature drop, be sure to check your tire pressure. Lower the risk of sun glare by keeping your windshields clean, and make sure your headlights are adjusted so they're not too dim.
While the weather and festivities of autumn are a great time, just make sure you're safe out on the roads. To make sure your Jeep is prepped for the upcoming months, visit Contemporary Chrysler Dodge Jeep RAM and we'll be happy to help in any way possible!