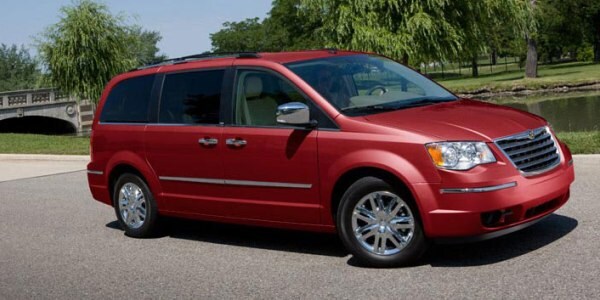 New Hampshire Chrysler shoppers seeking the perfect family minivan that also offers sophistication and a powerful performance will find everything they need with the 2011 Chrysler Town & Country. Extensively updated with revised styling, an improved cabin and the most powerful V6 engine in its class, this minivan ensures a great driving experience along with the safety and entertainment features to keep the whole family happy during any length road trip.
Contemporary Chrysler Dodge Jeep is proud to provide the latest Chrysler lineup including the 2011 Chrysler Town & Country. Schedule your test drive today by calling 877-824-0621.
Features
Every 2011 Town & Country available at your New Hampshire Chrysler dealer comes with seven-passenger seating. Town & Country's front seats are buckets and the third row is a split bench that folds into a rear floor tub; power-folding control for the third row is available.
The 2011 Town & Country will no longer have a choice of two second-row seating types. The only available setup is now the Stow ?n Go system. This consists of two forward-facing buckets that can be folded neatly into compartments in the floor. That eliminates the need to remove them to maximize cargo space and makes possible a flat, uninterrupted load surface when the rear bench also is folded. With the Stow 'n Go second row seats in their upright position, the floor compartments become roomy, covered storage bins.
The minivan is defined in large measure by its family-friendly features, and the 2011 Town & Country remains at the forefront of applied gadgetry. Standard or optional, depending on model: separate climate control for each seating row; dual-screen DVD video, which now can display input from separate sources, a choice of two subscription-based satellite TV systems, a mobile Internet Wi-Fi hotspot, USB iPod and Bluetooth phone linking, and a voice-activate navigation system.
Powertrains and Performance
The 2011 Chrysler Town & Country for sale in NH consolidates a three-engine lineup to a single V-6 . The 2011 Town & Country's only engine is Chrysler's new 3.6-liter Pentastar V-6, so named for the company's five-corner logo. With its application extended to 13 separate cars and trucks, this technologically up-to-date engine will do much of the heavy lifting among Chrysler, Dodge, and Jeep models in the coming years.
In the 2011 Town & Country, the Pentastar V-6 generates 283 horsepower and 260 pound-feet of torque, which makes it stronger than all three V-6s it replaces: a 3.3-liter (197 horsepower, 230 pound-feet of torque), a 3.8-liter (175 horses, 205 pound-feet), and a 4.0-liter (251 horsepower, 259 pound-feet). The Pentastar represents an important advance in smoothness and fuel-efficiency and is being introduced in conjunction with other upgrades designed to reduce noise, vibration, and harshness for a more relaxed overall driving experience.
Fuel Economy
Adding the power of the Pentastar V-6 doesn't mean lower fuel-economy ratings for the 2011 Chrysler Town & Country. The 2011 Town & Country has EPA ratings of 17/25 mpg city/highway. That matches the ratings for last year's 4.0-liter V-6, but relinquishes the title of most fuel-efficient minivan to both the 2011 Odyssey and 2011 Sienna.
Discover the value that the 2011 Chrysler Town and Country offers by visiting Contemporary Chrysler Dodge Jeep today. The combination of performance, fuel efficiency, entertainment and safety features and overall driving experience make this model a must-see. Call today at 877-824-0621.